What is Plexus Kodi Addon?
Plexus is an add-on for Kodi that assists you in watching peer-to-peer streams without the need for any external add-ons. Plexus is similar to a codec for Windows, which includes special scripts that decode data and present it to you in video format.
Plexus Kodi Add-on Review
ATTENTION KODI USERS: YOUR ISP IS WATCHING YOU!
Even without your explicit consent, your ISP (Internet Service Provider) is collecting and filtering your Web browser data.
Using Kodi to stream copyrighted content might get you into legal trouble!
Also, your ISP might block access to specific streams, which leads to Kodi errors, or entirely blocked and throttled streaming. This is why users of Kodi should always use a VPN to make sure their identity and privacy are protected while streaming. Before you proceed, please be informed that using Kodi addons without a VPN can get you a DMCA notice. Using a Kodi vpn can also help you unblock all Kodi addons. Be it Incursion add-ons, Gaia, Neptune Rising, Placenta or Sparkle, a VPN will not only help you unblock it but also keep your identity and privacy safe at all times.
Get 77% off on the best VPN for Kodi
Once activated, the VPN encrypts your Web traffic and makes it anonymous – keeping it away from your ISP's prying eyes. In fact, you will become invisible on the Web since your user logs, and your traffic history isn't stored on any server. TIP: Do you want to re-gain he old peace of mind feeling when browsing the Internet? Use this special VPN offer to use it also on your mobile phone!
How to install Plexus Kodi addon?
To install Plexus in 5 minutes follow the instructions
From the Kodi main menu, navigate to SYSTEM > File Manager > Add Source
Select None and type the following: http://plexus.kodi.expert and select Done
Highlight the box underneath Enter a name for this media Source & type plexus
Select OK and go back to your Home Screen
HOME screen > Add-Ons > Add-on Browser (left upper box icon).
Select Install from zip file and select plexus
Click on program.plexus-0.1.7.zip and wait a few second for the add-on successfully installed notification to appear
How to configure Plexus Kodi addon on your Kodi Box?
With Plexus installed using the instructions above go to HOME screen > Add-Ons > Program add-ons  and click for 3 seconds (or right click if you have that button on your remote) on Plexus icon to configure it.
In the Settings for Plexus addon Navigate to Acestreams (from the menu list) >
Those are the recommended settings by Kodi.eXpert:
Acestream Player Type > Select Local
Acestream Player Type > Select External App + Kodi Player
Shutdown Acestream engine on playback stop > Enable

Leave the other settings as they are by default.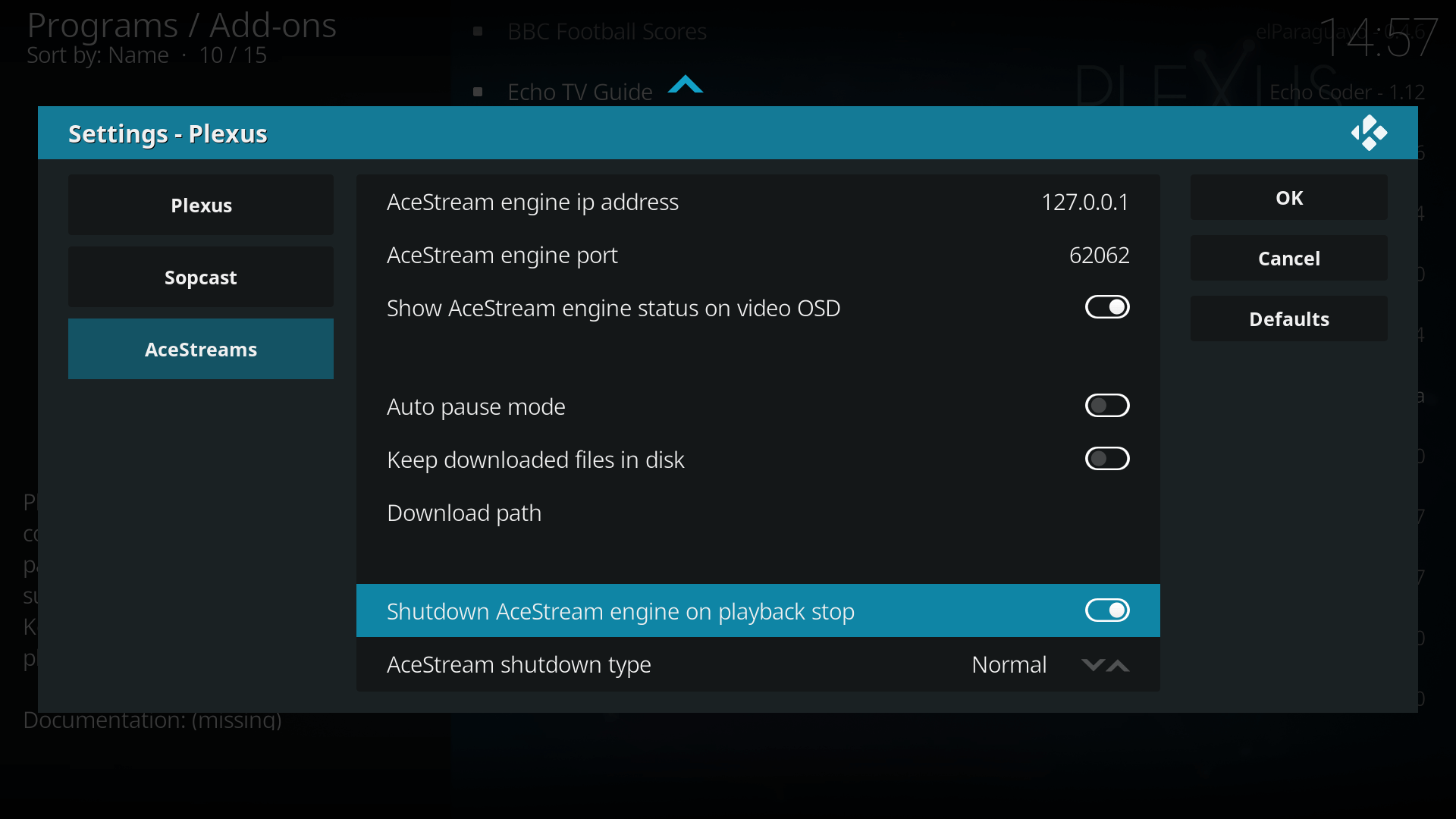 So what's next?
Plexus Kodi addon is just 1/3 of the full setup for Kodi to watch live TV streams using Acestream on Kodi.
You will need to complete the setup with Acestream Engine running as app on the background and Castaway Kodi plugin to list you the channels or stream lists from /r/soccerstreams on Reddit!
Plexus Kodi addon is working only in the newer Android version boxes. We have an article that tests and reviews the best kodi boxes. Make sure you have a good kodi box before complaining for low speed in Kodi add-ons.
Best Android Boxes
for your TV in 2018