Incursion Kodi Addon Review
Incursion Kodi Review
Latest official version: 0.1.17 (05/01/2018)
PRO:
The best clone (fork) of Covenant
Continuously updated and developed
CONS:
It has some errors for a few providers
His developer recently announced that he will cease developing Incursion. The good news is that he will launch a better add-on than Incursion.
Repo address for the Kodi Experts:
http://incursion.kodi.expert
Incursion Kodi Addon Repository:
https://github.com/nixgates/Incursion
What is Incursion?
Incursion is a relatively new Kodi addon for watching Movies and TV Shows. Incursion is a fork of the popular Covenant addon. The new Incursion add-on promises to improve upon its predecessor while keeping the same functionality and most of the same design.
NEW! Incursion Kodi Addon is listed as one of the best kodi addons because it is well maintained and active.
We offer you 2 ways to learn how to install Incursion.
How to download and install Incursion Kodi Addon on your Kodi Krypton 17 or Kodi Leia 18?
1. Open Kodi on your platform. After a few seconds waiting for completely loading Kodi, you will see the standard main interface (in the images we are using Kodi 17.6. The interface in Kodi 18 Leia is mainly similar so you should follow the same steps). Start by clicking on the SETTINGS button on the top left (it is that cog wheel under Kodi logo).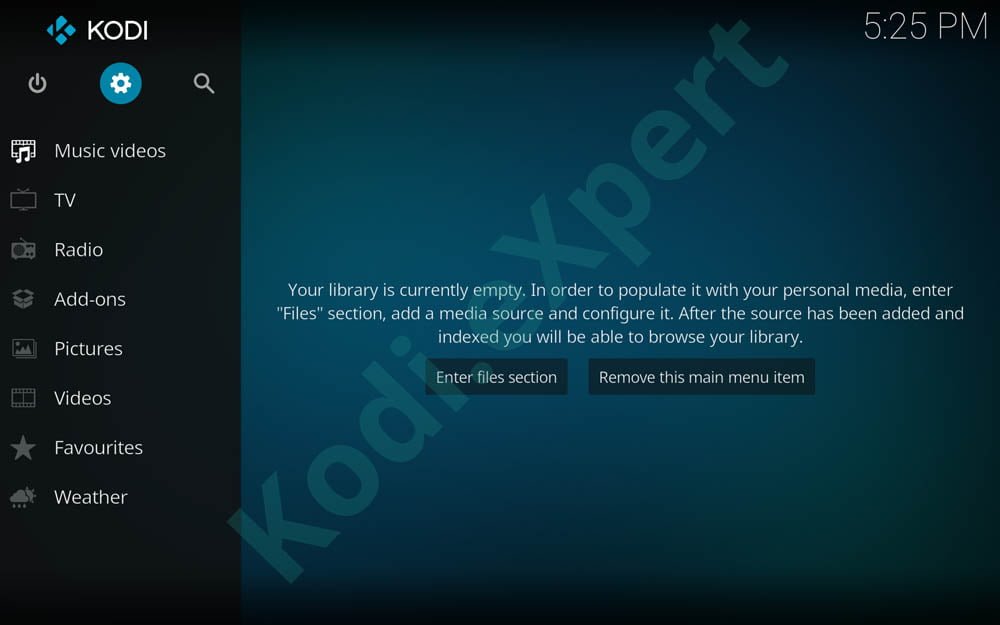 2. Position and Open the Files manager in the bottom right of Kodi -> Settings window.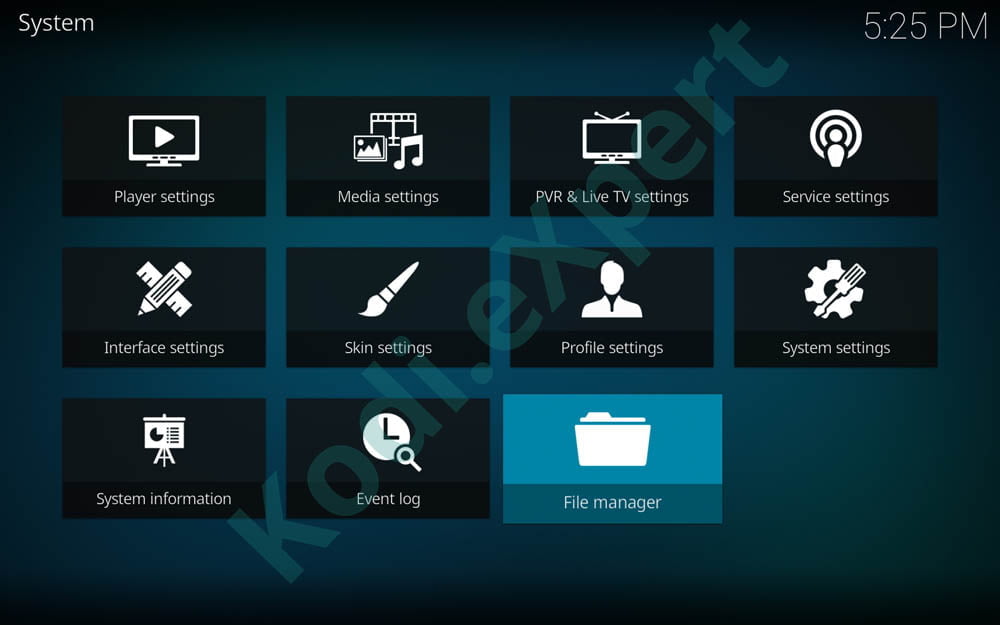 3. You have 2 similar panels here. Tap on Add source on any of them to bring the next window where you will input the source path.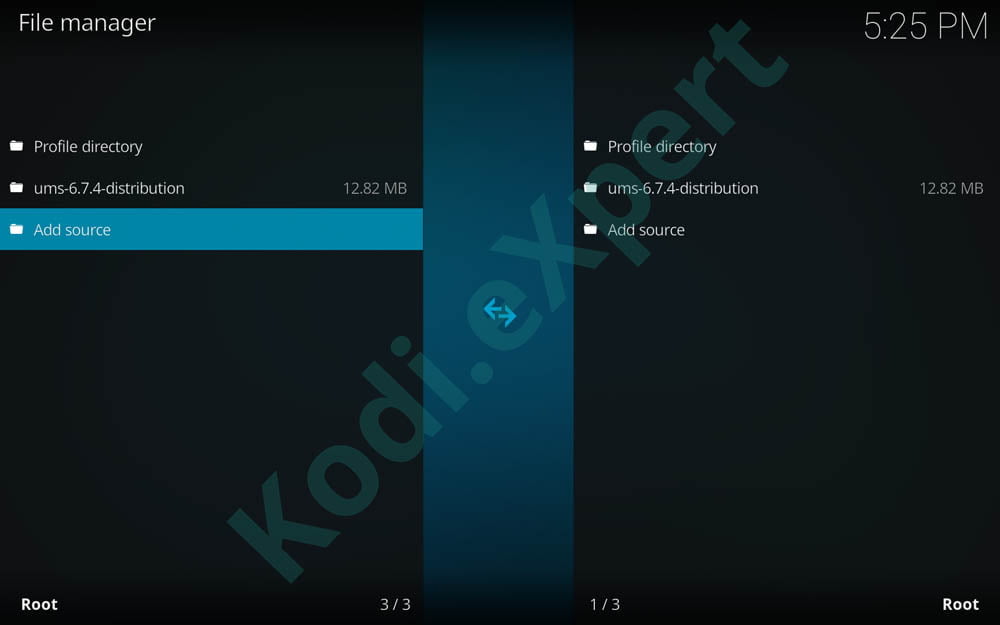 4. With the Add file source dialogue box open, position and click on <None> selection as in the image below.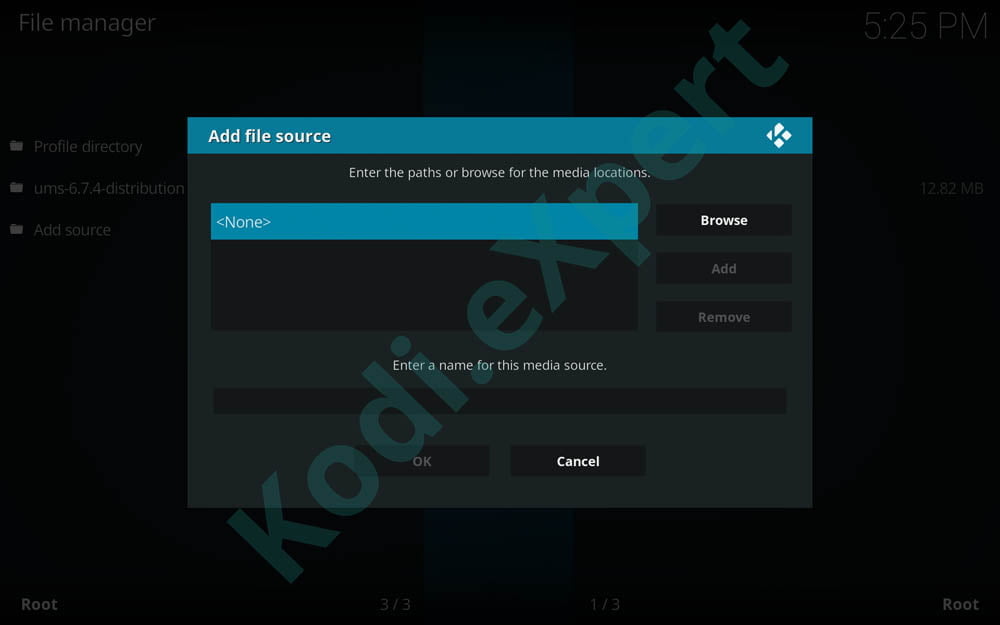 5. A full screen will appear next, where you will need to input the Incursion kodi repo path: http://incursion.kodi.expert with no mistakes.  Remember to pay attention to input the correct path letter by letter. If you make any mistake, the path won't be added and will lead to malfunction in the next steps.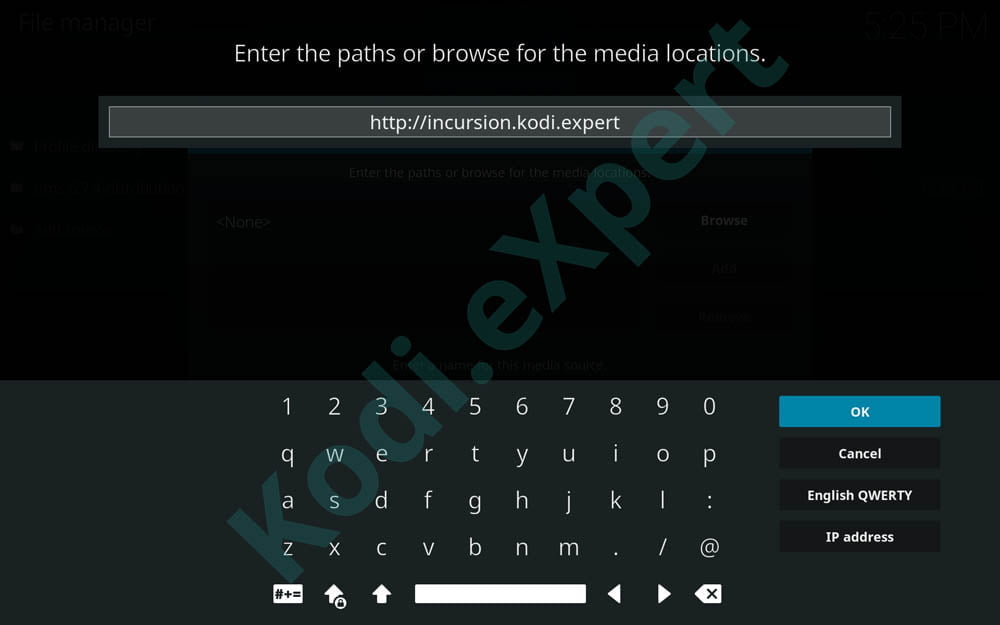 6. In the "Enter a name for this media source" field pick any desired name for the source name. We recommend that you name it 'Incursion' (for easy identification later). Then press ok. Be careful with the chosen name: that name shouldn't have been used before.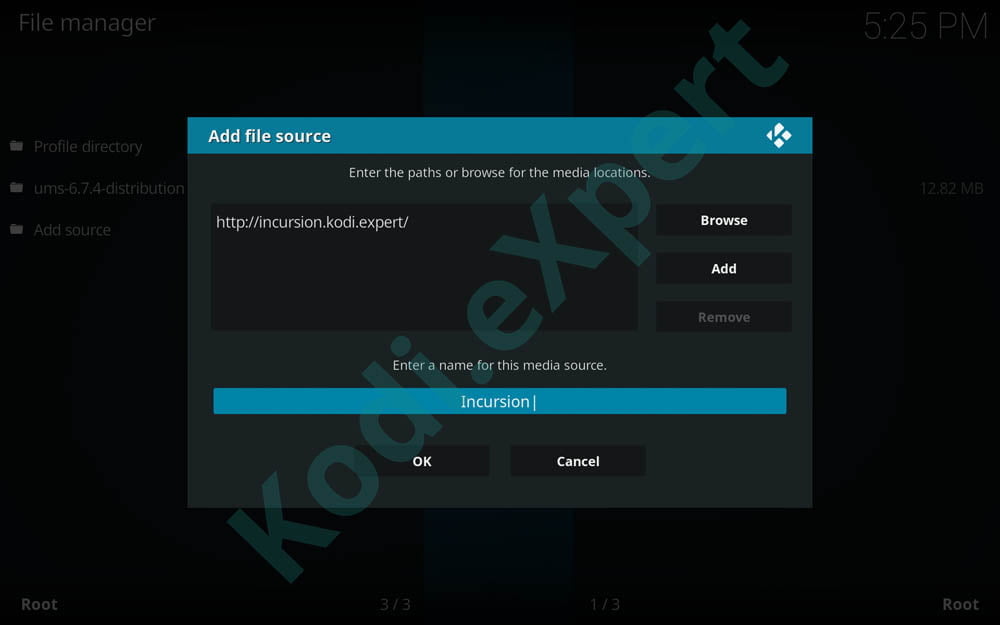 7. Next return to the KODI Main Menu by pressing BACK key multiple times. Now go and click on Add-ons from the left main menu (the one with the open box).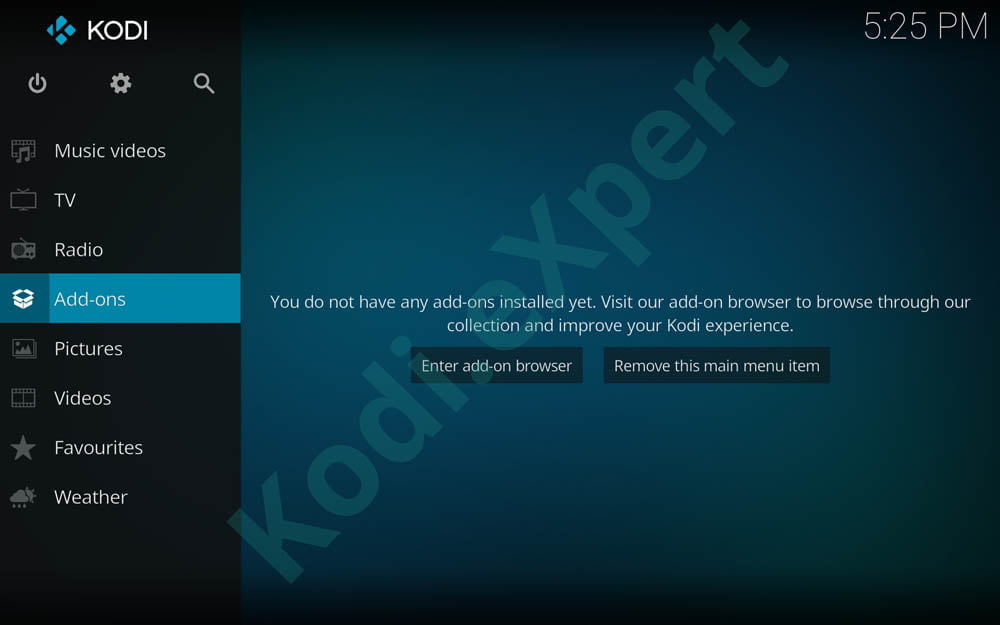 8. On the top left corner, you'll get 3 new icons. Go to the Open Box (or unzipper, the first icon on the top left screen) and just click on it.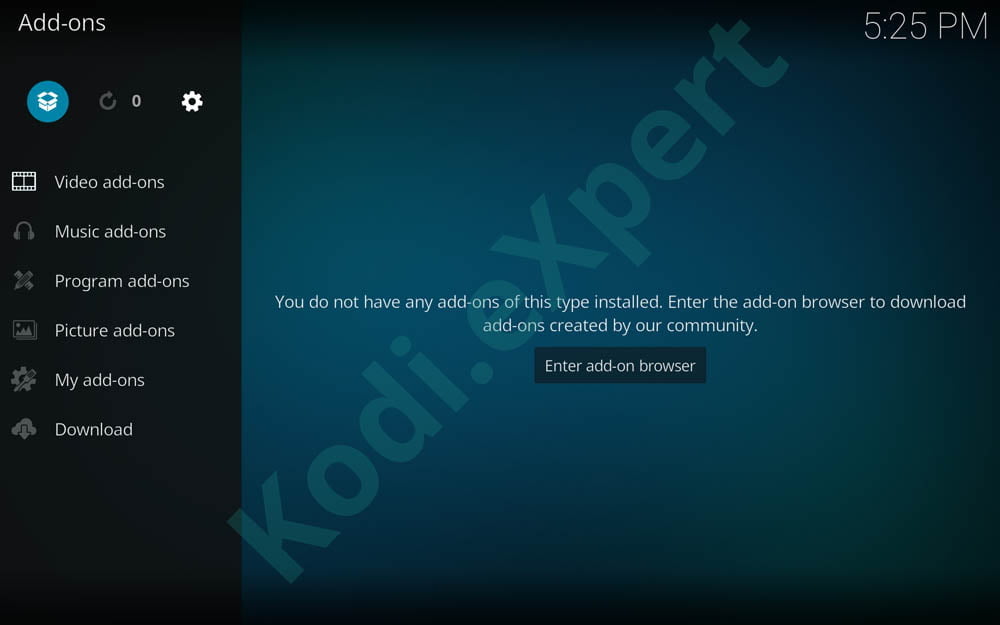 9. Then on the next screen, you will see a list of multiple options. We need to go to the Install from zip file section in order to open the addon source.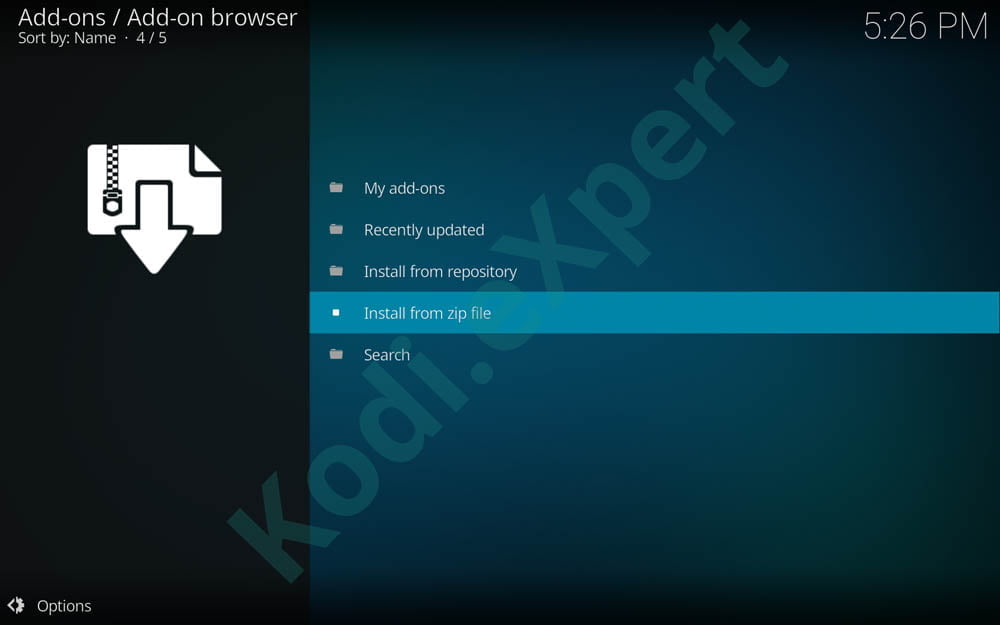 10. A new window called Install from zip file opens. You will have a list of local and internet sources. Simply select and click on 'Incursion' (or whatever name you saved in step 6).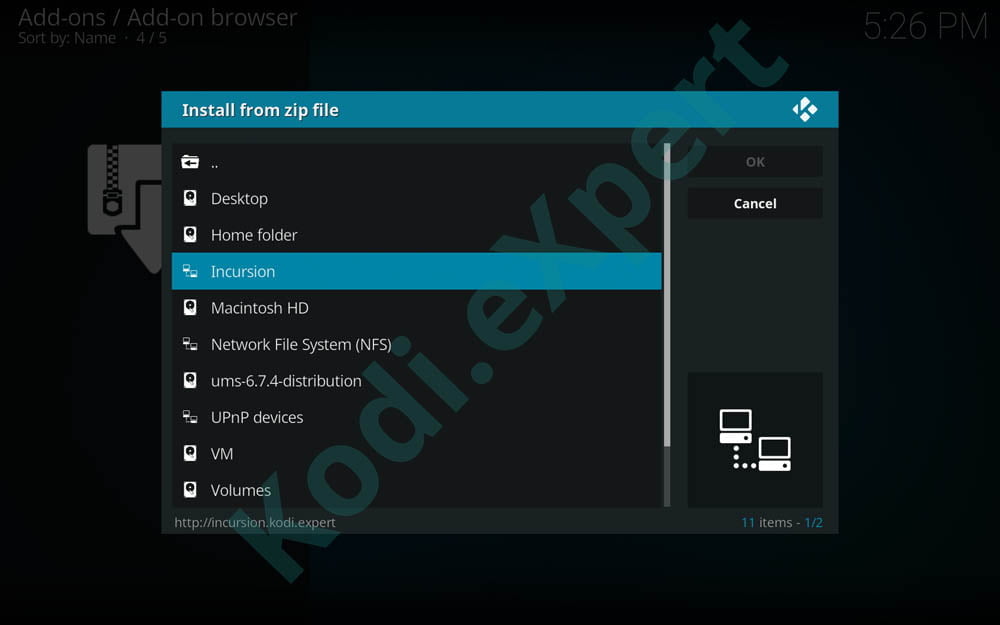 11.  Now click on incursion.repository-0.0.3.zip (if the file name is different you shouldn't worry. It's a single file there so you can't get wrong )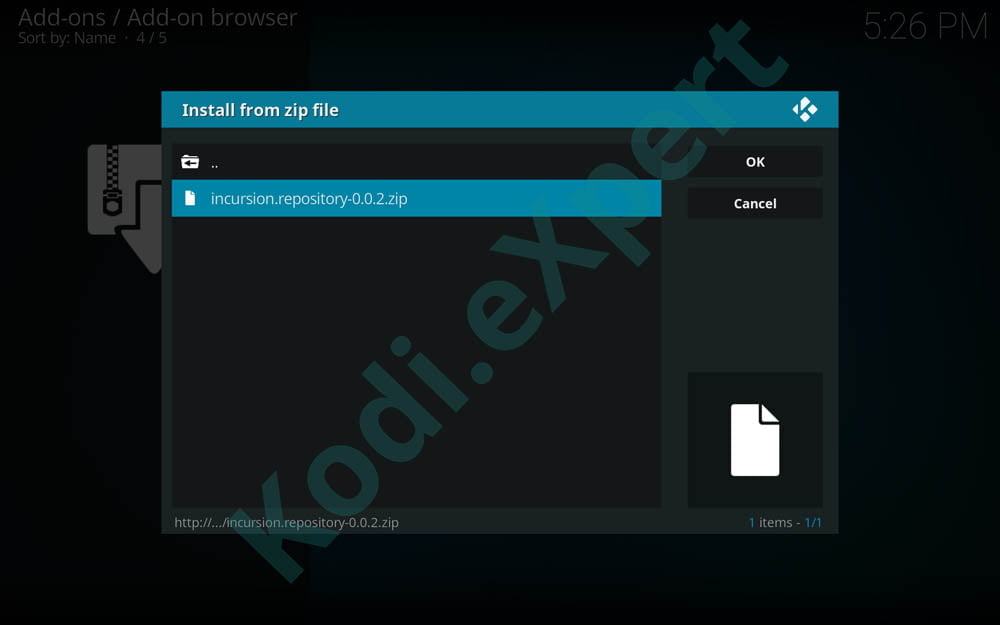 12. Just click on it and press INSTALL and WAIT for the top right notification saying "Incursion Repository Add-on updated" message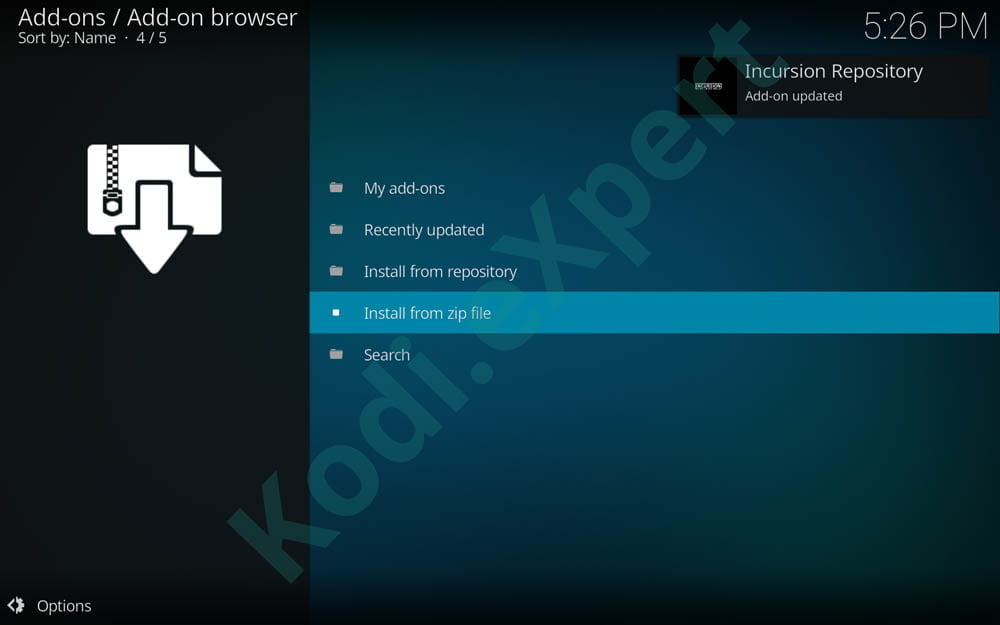 13. If the above step succeeded you will be returned to the previous menu (as in step 8) where you have the add-on browser interface.
14. This time click on the 3rd menu called Install from Repository - see the selection in the image below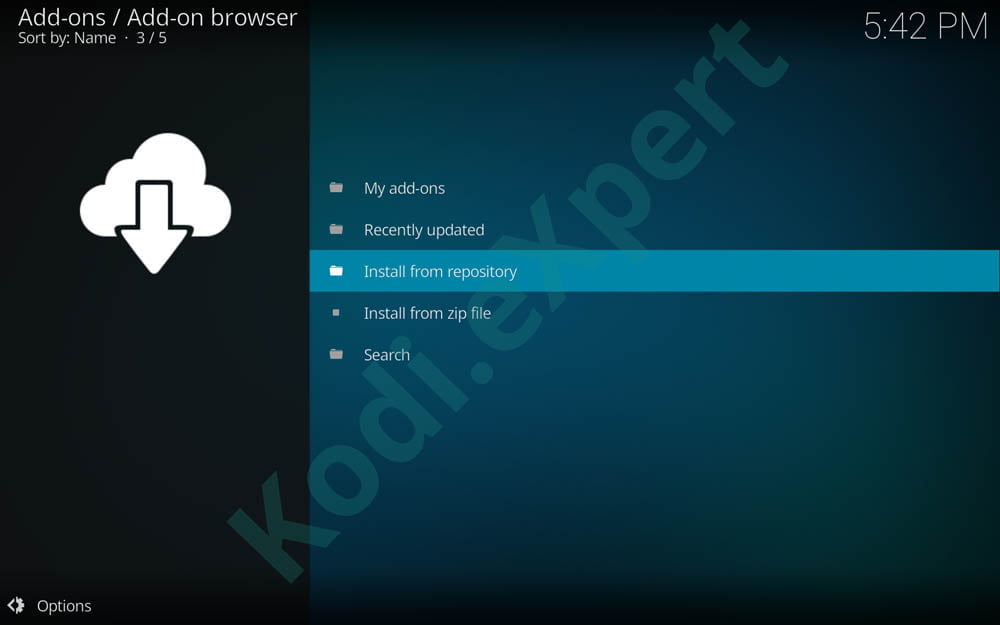 15. Go down to "Incursion Repository"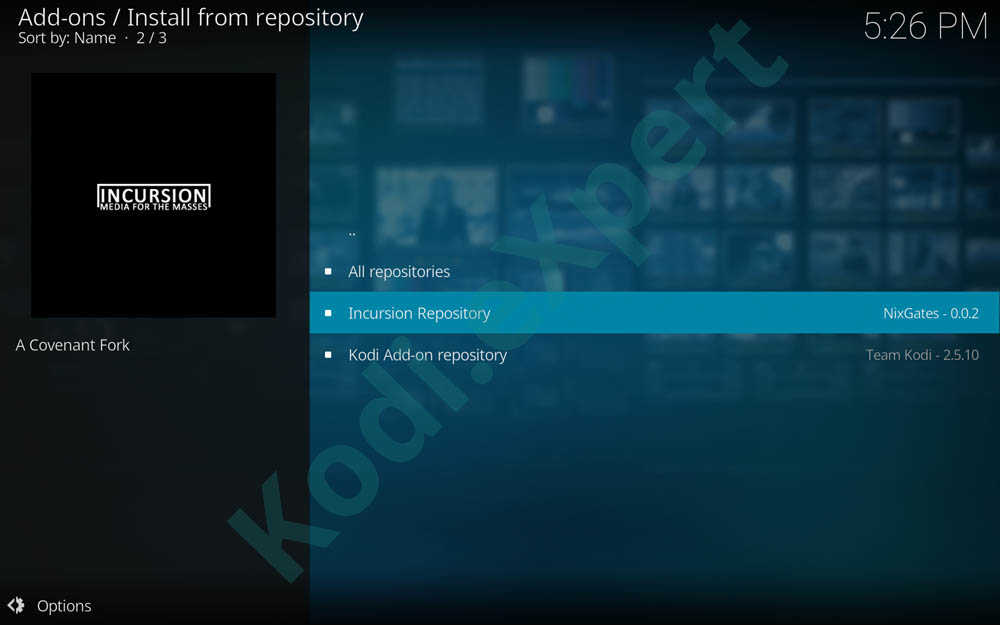 16. Simply choose Video Add-ons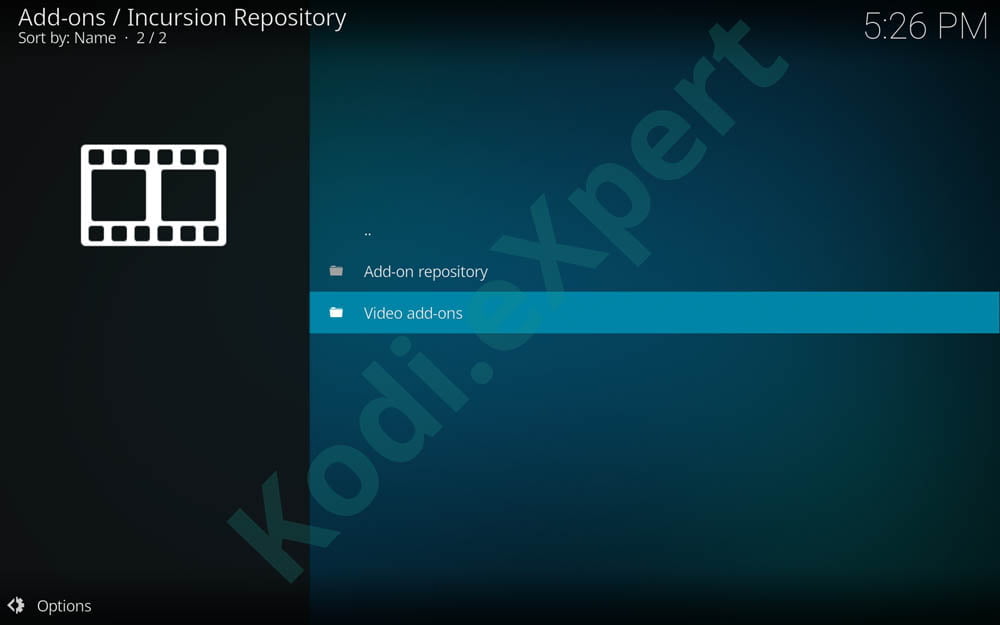 17. Now select Incursion and choose Install (the cloud icon in the bottom right)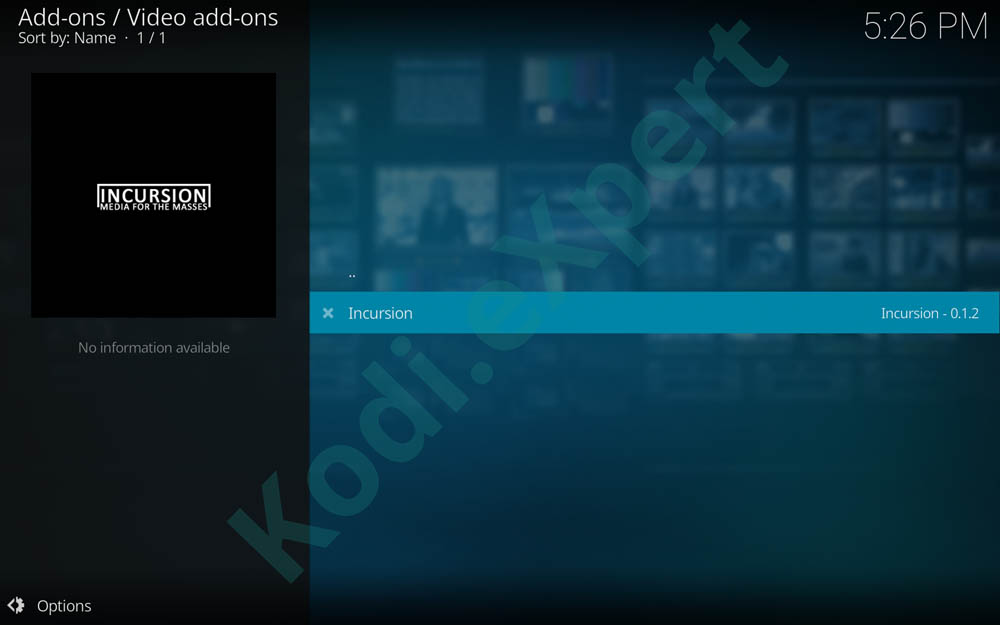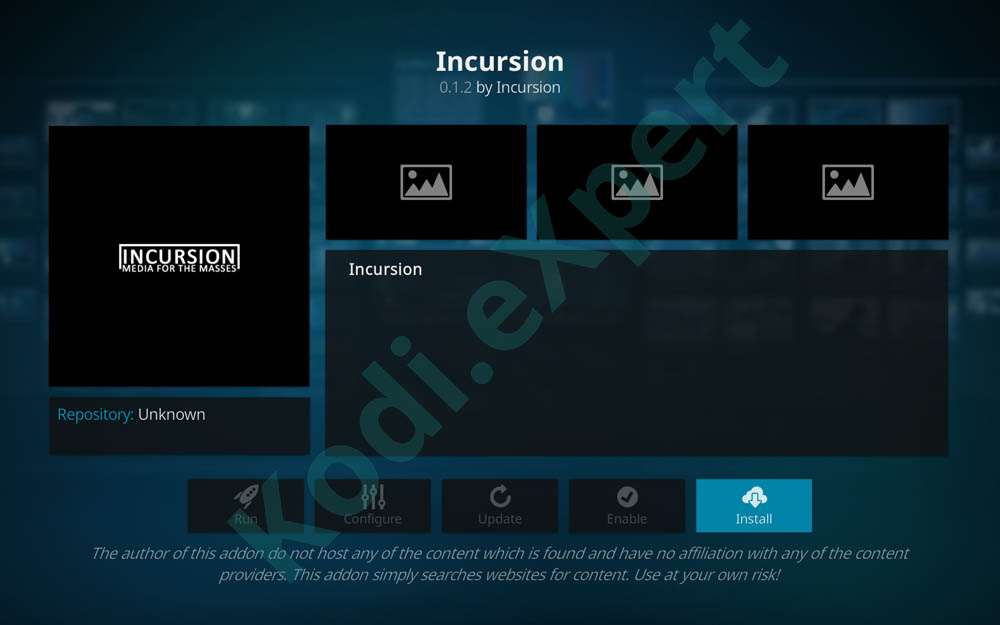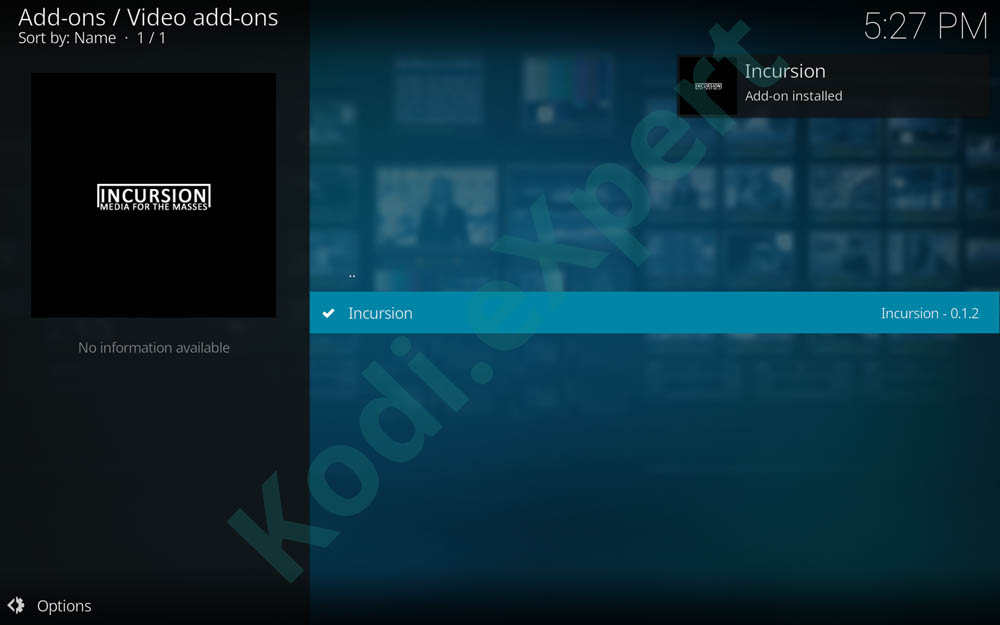 18. To start enjoying your brand new installed Kodi addon go to Video add-on section and locate the Incursion icon. It is the one with a black background so it's easy to identify.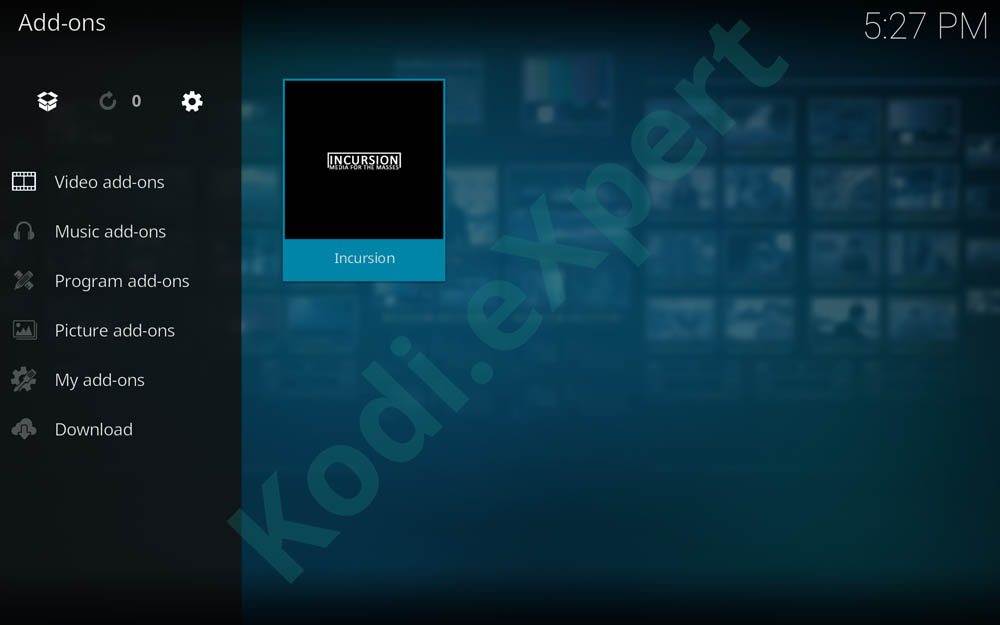 19. When you open the Incursion addon you will see the following interface with those menus: Movies, TV Shows, My Movies, My TV Shows, New Movies, New Episodes, Channels, Tools and Search. There are sub-menus for each of these menus.
If you want a Kodi expert trick for speed: Go down on Search and type your favourite Movie or TV Show title. Start discovering ehat Incursion can offer you 🙂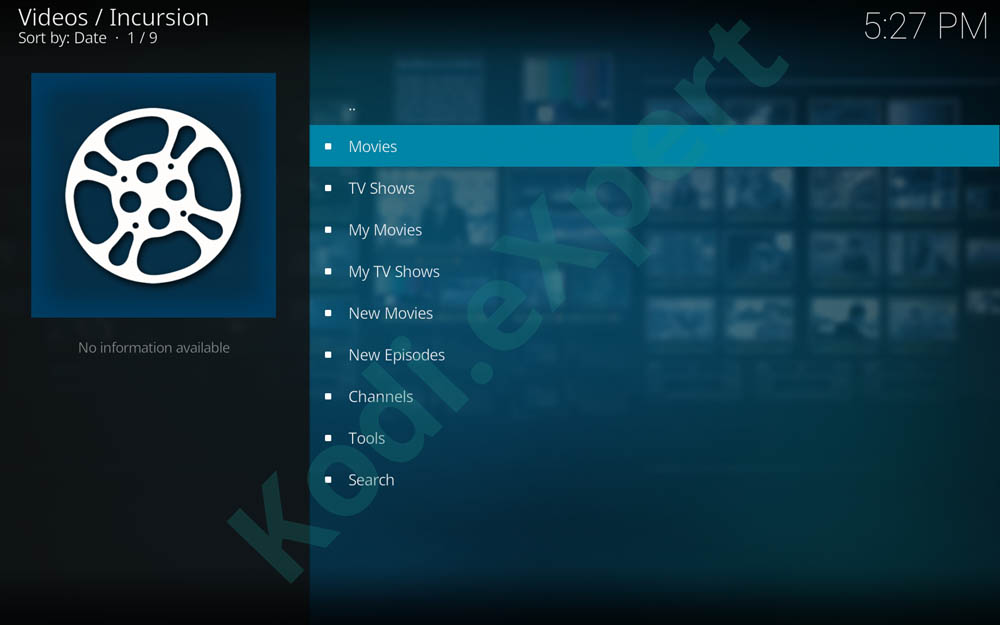 Having a slow experience in using Incursion or many other add-ons?
That's because of the low performance of your Kodi Box. There is a new universe in having a smart and fluid experience on your screen. A new generation of Android TV Kodi boxes is now offering the supreme multimedia experience. Want to get faster and better than Netflix, Hulu, and the other commercial providers? Check our list of the best Kodi boxes in 2018.
Learn how to install Incursion Kodi from a 3 minutes quick and easy guide on Kodi Expert Youtube channel
Integrate Incursion with your Kodi Library.
Launch Incursion from Addons tab
Select Tools
Select Incursion: Library
Right-click (or however you open the context menu) on Incursion: TV folder
Select Set Content
Choose TV Shows and press OK to confirm (apply any other settings as appropriate there)
Click Yes to refresh the folder information
Select Incursion: Library
Right-click (or however you open the context menu) on Incursion: Movies folder
Select Set Content
Choose Movies and press OK to confirm (apply any other settings as appropriate there)
Click Yes to refresh the folder information
You may or may not need to refresh your library. Kodi Expert strongly advises you to do so. Now when you right click on a movie or tv show and use "Add to Library", it will be added to your main Kodi library as its added to the Incursion library.
Our Kodi Experts community keeps a close look at all the active and functional Kodi Add-ons. Here you will find the similar Kodi Add-ons:
How to update Incursion Kodi Addon?
1. From the MAIN MENU go to ADD-ONS then select the upper left OPEN BOX ICON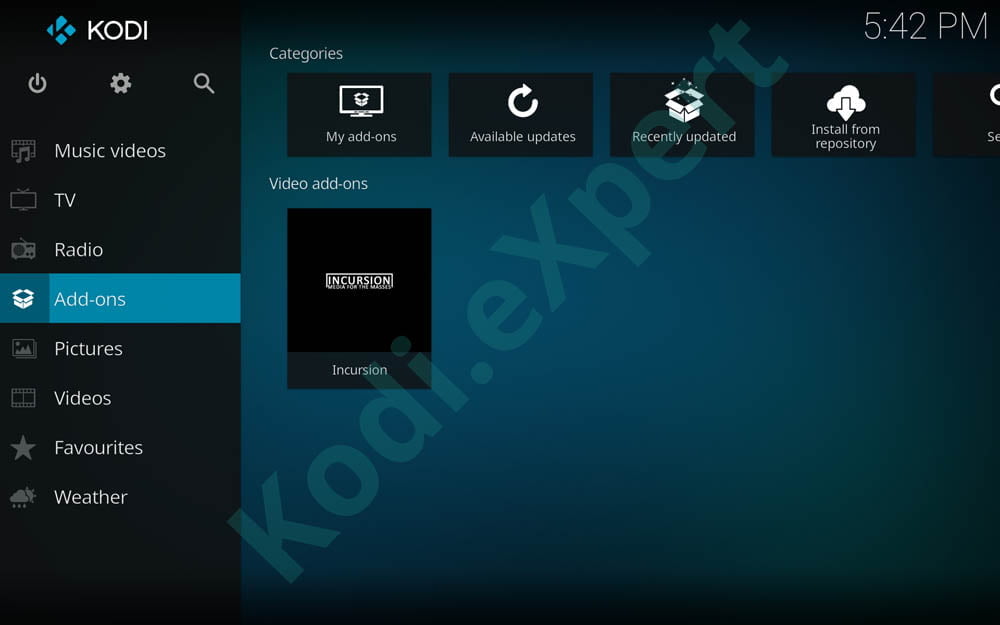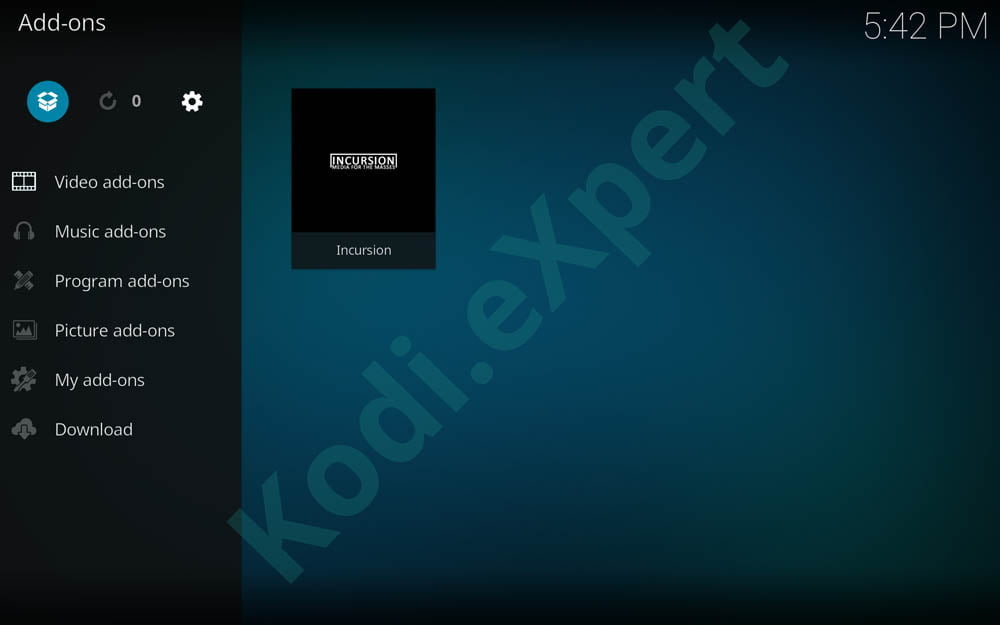 2. Choose Install From Repository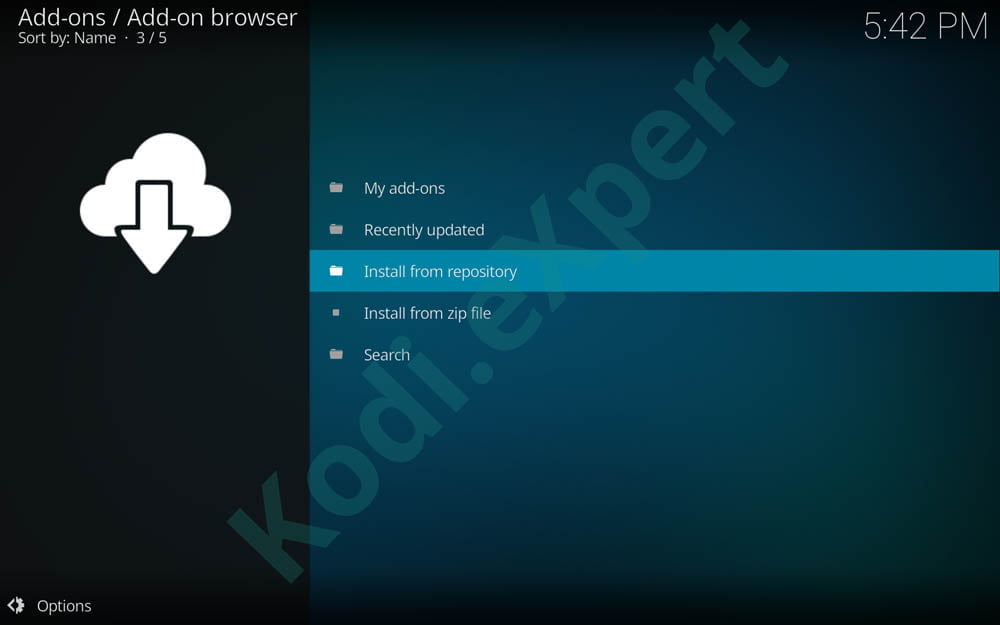 3. RIGHT CLICK on Incursion Repository and select INFORMATION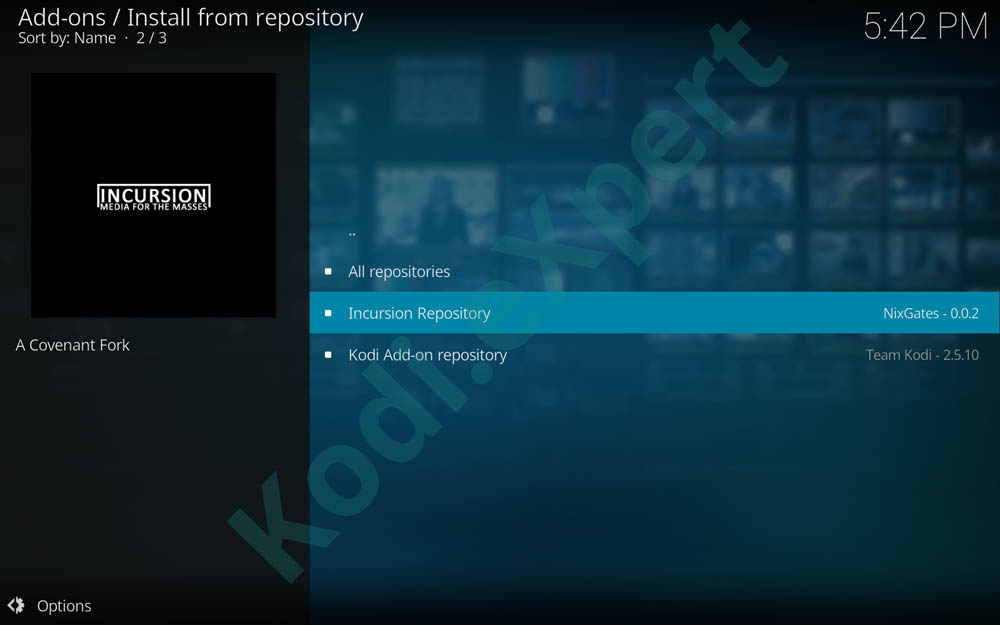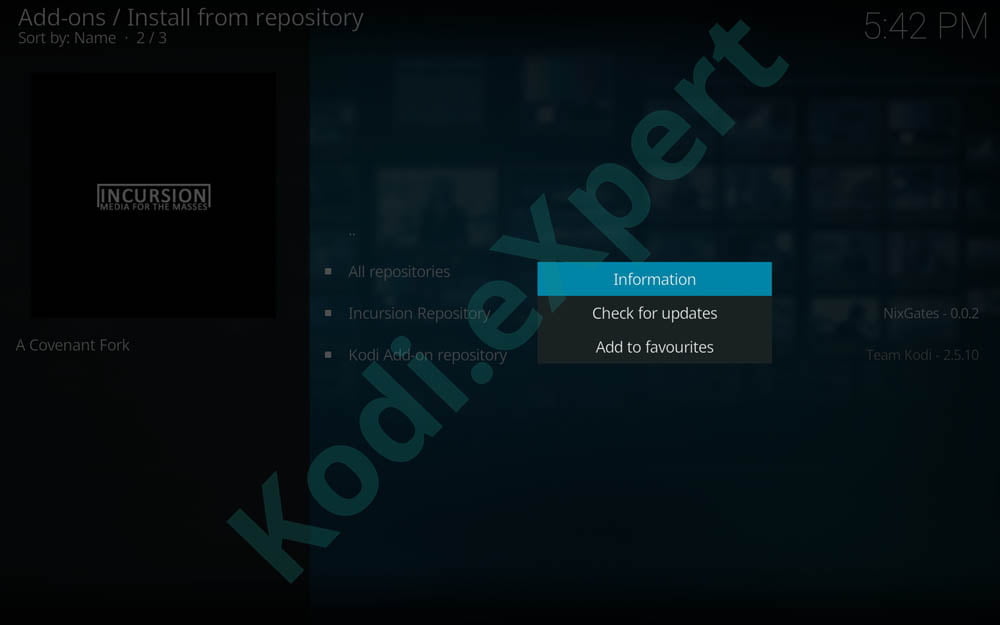 4.Press on the UNINSTALL Button in the lower right of the screen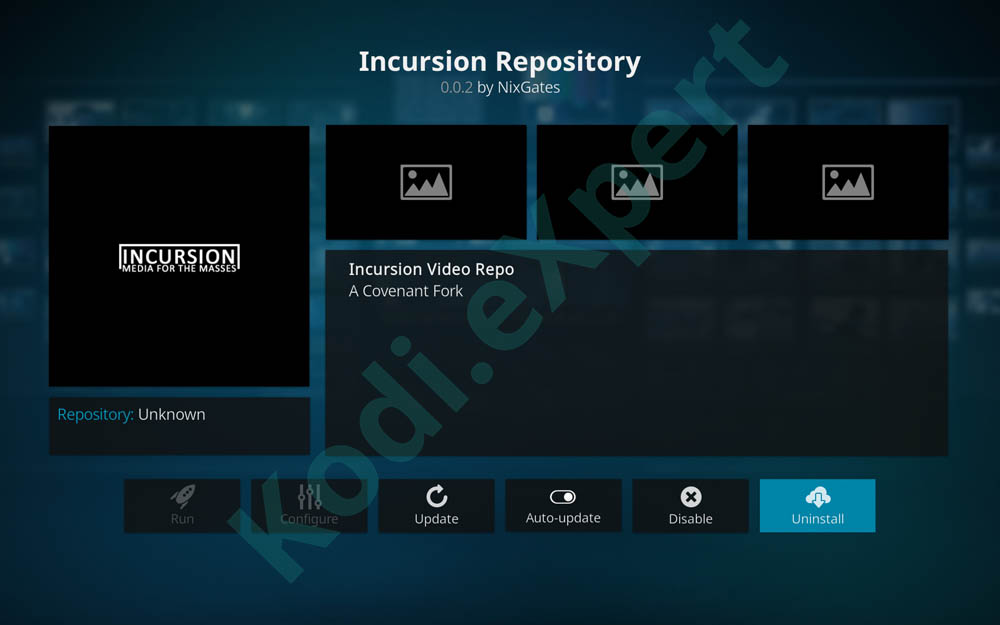 5.Redo the steps 9-16 from the Installation guide above [Main menu -> Add-ons -> OPEN BOX (upper left)-> Install from ZIP file -> Incursion -> incursionrepository.0.0.2.zip then  Main menu -> Add-ons -> OPEN BOX (upper left)-> Install from Repository -> Incursion -> Video Add-ons -> Incursion -> INSTALL]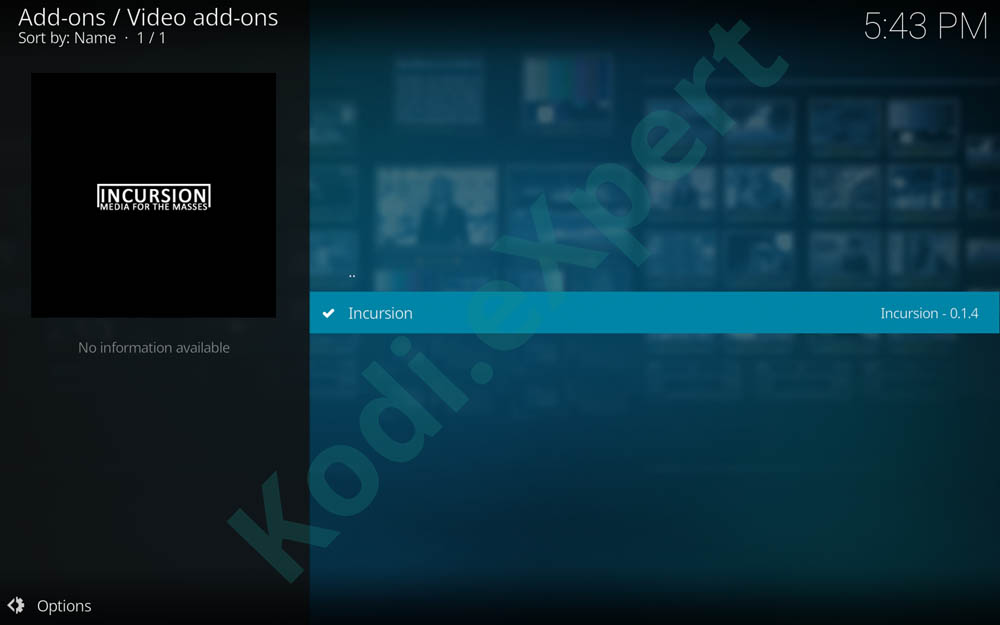 Kodi Incursion Addon Changelog
Plugin.Video.Incursion - v0.1.17
May 2018
0.1.17
Even more Scraper Fixes
CFSCRAPE Fix
Moderator Disabled
Fixed Trakt On Deck Magical Disappearing Act
Fixed search issue caused by character accents
0.1.16 
Scraper Fixes - 2ddl, chillax, allrls, movie4kis
New Scrapers - pubfilmonline, rlsscn
Settings cleanup
Added polish fixes
Slacked on documentation - slack update notes
0.1.15
Fixed "Trakt - Mark as Watched" Issues
Added Trakt Bookmarks Function
Added Auto Resume Option
Trakt On Deck - Reversed to show last played first.
0.1.13
Re-added Filepursuit scraper
Changes to Furk Scraper - better link identification
Moved Away from TVA URLResolver to Jsergios ResolveURL
Fixed 24 hour delay option
Removed URLResolver from Repo
Removed BeautifulSoup from Repo
0.1.12
Added Season 0 Support
Added Find Similar Context Menu Feature
Added option to disable 24 hour library import delay
0.1.11
Added Highly Experimental Furk Support
0.1.10
Added Pre-emptive Termination

This can be found in the playback settings menu.
This operates using the maximum quality setting (up to 1080, if 4k selected it will terminate after limit for 1080 reached)
If maximum quality is set to '720p', it will terminate once the limit is reached for the maximum quality and again for SD.

Added Debrid only option

This forces Incursion to only attempt to play debrid files.
This will have no effect if there is no debrid resolves enabled.

Fixed + Added Sources
0.1.9
Fixed RLSBB Source

Fixed DDLS Source

Updated URLResolver on Repo
0.1.8
Added Movies support to ALLRLS
Fixed Value Error in ALLRLS Script
Updated CFSCRAPE to support new Cloudflare header
Cmovies now uses episode titles to find correct episode
CartoonHD now uses episode titles to find correct episode
Fixed Mehliz TV and Movie Support
Cleaned Up Sources in settings.xml
0.1.7
SoapTV Added
Chillax Fixed (requires account)
Changed some folders in the git to maintain copies of old versions
Feature Add Update: 1
Added Trakt Collections AutoSync
Added MetalliQ Support
Removed unused Series Cravings source file
Minor Update: 4
Fixed Watchseries
Fixed ALLRLS (again + cleaned up some of the spaghetti)
Added Stealth Theme provided by 2Radzx
Fixed BEETV
Cleaned up en source files
Cleaned up settings-Providers (still more to go)
Minor Update: 3
Fixed CMOVIES Source
Added Filepursuit entry into accounts page and changed link info as agreed to with the FilePursuit creator.
Fixed Solarmovie
Minor Update: 2
Sources updated in settings.xml
Repository Name Corrected
Removed Putlocker Source/Replaced with new CartoonHD Source
ALLRLS source fixed
Added Source Filepursuit
IMDB Lists Fixed - thanks to throwaway covenant 1'st update
Network Lists Fixed